Sanjay Gandhi Institute of Dairy Technology (SGIDT)
About SGIDT
Sanjay Gandhi Institute of Dairy Technology, Patna is an ICAR accredited Institute. The Institute was established by the Government of Bihar vide resolution No. 2813, dated 14th December 1980. The first batch of undergraduate students in Dairy Technology course was admitted in the year 1982 at Rajendra Agricultural University, Pusa, Samastipur, Bihar. The Institute was shifted to Patna in 1986 and finally moved to its own campus in the year 1999. Since 2010 to 2017, the Institute associated was a part of Bihar Agricultural University, Sabour, Bhagalpur, Bihar which was formed out of RAU, Pusa in the year 2010. The SGIDT is now a constituent unit of Bihar Animal Sciences University (BASU), Patna, which was established through an act of Bihar State (BASU Act No. 15 of 2016) as notified in the Bihar Gazette on 29 August, 2016.
The Institute is engaged in teaching, research and extension activities in the area of Dairying encompassing, Dairy Technology, Dairy Engineering, Dairy Microbiology, Dairy Chemistry, Dairy Extension, Dairy Cattle and Nutrition, Animal Physiology and Reproduction, Dairy Economics, Statistics & Computers. The Institute runs a four year Bachelor degree Program in Dairy Technology [B. Tech. (D.T.)] and a two year post graduate degree program of M. Tech. (D. T.). The Institute has adopted the course curricula as per recommendation of the Deans' committee constituted by the ICAR, New Delhi and presently the courses are offered as per ICAR Vth Deans' Committee. The National Agricultural Education Accreditation Board of ICAR, New Delhi accredited SGIDT for offering B. Tech. (Dairy Technology) Program in March 2017.
Mandates
Mandates of the Institute
To train personnel in Dairy Technology and Dairy Husbandry in order to handle dairy development Programs in the state of Bihar.
To provide short term training to Dairy Farmers, Dairy Entrepreneurs and Dairy Technicians as and when required.
To conduct under graduate and post graduate Program in the selected areas of Dairy Science as per requirement of the state.
To carry out research in collaboration with related disciplines on various aspects of Dairy Science and Technology.
To disseminate the scientific knowledge in relation to milk and milk products through extension education Programs.
Institutional Area
INFRASTRUCTURE AND FACILITIES
 Institutional Area:
The SGIDT Patna has a magnificent building comprising of different blocks. These blocks occupy sufficient land area and have sprawling lawn. An auditorium is being constructed separately in the SGIDT campus. In addition, a state-of-the-art building with excellent facilities as per the Vth Deans' Committee recommendation is on the cards and is likely to be completed within a year or so. An Experimental Milk Plant with ten thousand litres capacity per day is also being set up.
Sl. No.
Buildings
Plinth Area (m2)
Stage of construction
1.
Institute Building
1144
Constructed
2.
Boys Hostel
2214
Constructed
3.
Girls Hostel
316
Constructed
4.
Staff Quarter
1580
Constructed
5.
Proposed First Floor of the Institute
2042
Under construction
6.
Proposed lecture theatre complex
616
Under construction
7.
Proposed Dairy Plant Building
935
Under construction
Total Area
 8847.0
Laboratories
Laboratories
The Institute has a Central Fine Instrument Laboratory in addition to six other laboratories. The existing list of laboratories is as below:
| | |
| --- | --- |
| Laboratory | No. of laboratories |
| Central Fine Instrumentation Laboratory (DT) | 01 |
| Dairy Technology Laboratory | 01 |
| Dairy Engineering Laboratory | 01 |
| Dairy Chemistry Laboratory | 01 |
| Dairy Microbiology Laboratory | 01 |
| Dairy Economics, Statistics & Management Laboratory | 01 |
| Dairy Extension Laboratory | 01 |
Class Rooms
The Institute has three air-conditioned classrooms with a capacity of 175 seats having audio visual presentation equipment's and other modern facilities.
In the same complex two lecture hall with 48 sitting capacity on the first floor having all modern AV facilities and acoustics are also being constructed.
A new building having complete facility as per the Vth Dean Committee recommendation is in the offing. It will have numerous committee room, seminar room state of the art UG and PG lab etc.
Library
The Existing library of SGIDT, Patna provides outstanding facilities to support teaching and research across various disciplines. The library has aimed to become the informational hub for the students and the staffs of the college to access the National and International journals and periodicals, textbooks and reference books The library has good internet facilities for reference purpose. Besides this, there is a central university library of Bihar Animal Sciences University, Patna having good number of journals, periodicals, books on all the subjects with proper internet facility
Model Dairy Plant
ICAR and Govt. of Bihar funded Experiential Dairy Plant (10,000 litres /day capacity) with facilities for processing, product development, quality analysis and packaging of milk and milk products is under construction.
Computer Laboratory
The Institute has a well-equipped computer centre which is connected through LAN for access to internet. Staff rooms and various laboratories have also been provided with internet connection. Faculties, students and staffs use this laboratory for training/ teaching, computation, report preparation and surfing the net for academic purposes. Most of the faculties of the Institute have been connected with the local area network (LAN) of the Institute to have broadband internet access and other services at their desktop. One new Computer language laboratory has also come up in the Institute.
Students Hostel
Adequate hostel facilities are available for both boys and girls of UG and PG Programme. The hostel inmates are provided with outdoor and indoor sports facilities. Mess facilities are also available to the boarders.
Objectives
To provide facilities for Training and Student READY Program.
 In-plant training to students as per the ICAR Vth Dean's Committee curriculum.
To provide placement opportunities to students in Govt. Organization Federation, consisting of milk unions, Private dairy and Food plants, Multinational Dairy and Food Companies for under Graduate Scholars.
Main Functions of the Cell
To develop database of the recruiters in India and abroad
To liaison between students and recruiting organizations
To create awareness among students about employment opportunities.
Proper guidance and training for skill development and Competitive examinations like ARS/SRF/JRF/Civil services etc. to the students.
Proper guidance to students for self employment and setting up small scale industries or Dairy Farming.
Training Stipend
Stipends are generally provided by the organizations imparting training to students.
ICAR has made a provision to provide stipend for one semester at the rate of Rs. 3000/ per month to those students who do not received stipend from industries
| Name | Designation | Department | Details |
| --- | --- | --- | --- |
| Dr. A. K. Thakur | Dean (Act.), SGIDT | Extension. Education. | View Details |
| Dr. J. Badshah | Univ. Professor- Cum Chief Scientist | Dairy Engineering | View Details |
| Dr. Sanjeev Kumar | Associate Professor cum Senior Scientist |  Dairy Technology | View Details |
| Dr. Binita Rani | Associate Professor cum Senior Scientist |  Dairy Chemistry | View Details |
| Dr. Rakesh Kumar | Associate Professor cum Senior Scientist |  Dairy Microbiology | View Details |
| Dr. K. Murari | Asst. Professor-Cum Jr.Scientist | Ph.D. (DE) | View Details |
| Dr. Sonia Kumari | Asst. Professor-Cum Jr.Scientist | Dairy Microbiology | View Details |
| B. K. Singh | Asst. Professor-Cum Jr.Scientist | Dairy Technology | View Details |
| B. K. Bharti | Asst. Professor-Cum Jr.Scientist | Dairy Chemistry | View Details |
| Dr. A. K. Jha | Asst. Professor-Cum Jr.Scientist | Dairy Business Management | View Details |
| Mr. Surymani Kumar | Asst. Professor-Cum Jr.Scientist | Dairy Technology | View Details |
Anti Ragging Committee
Anti Ragging Squad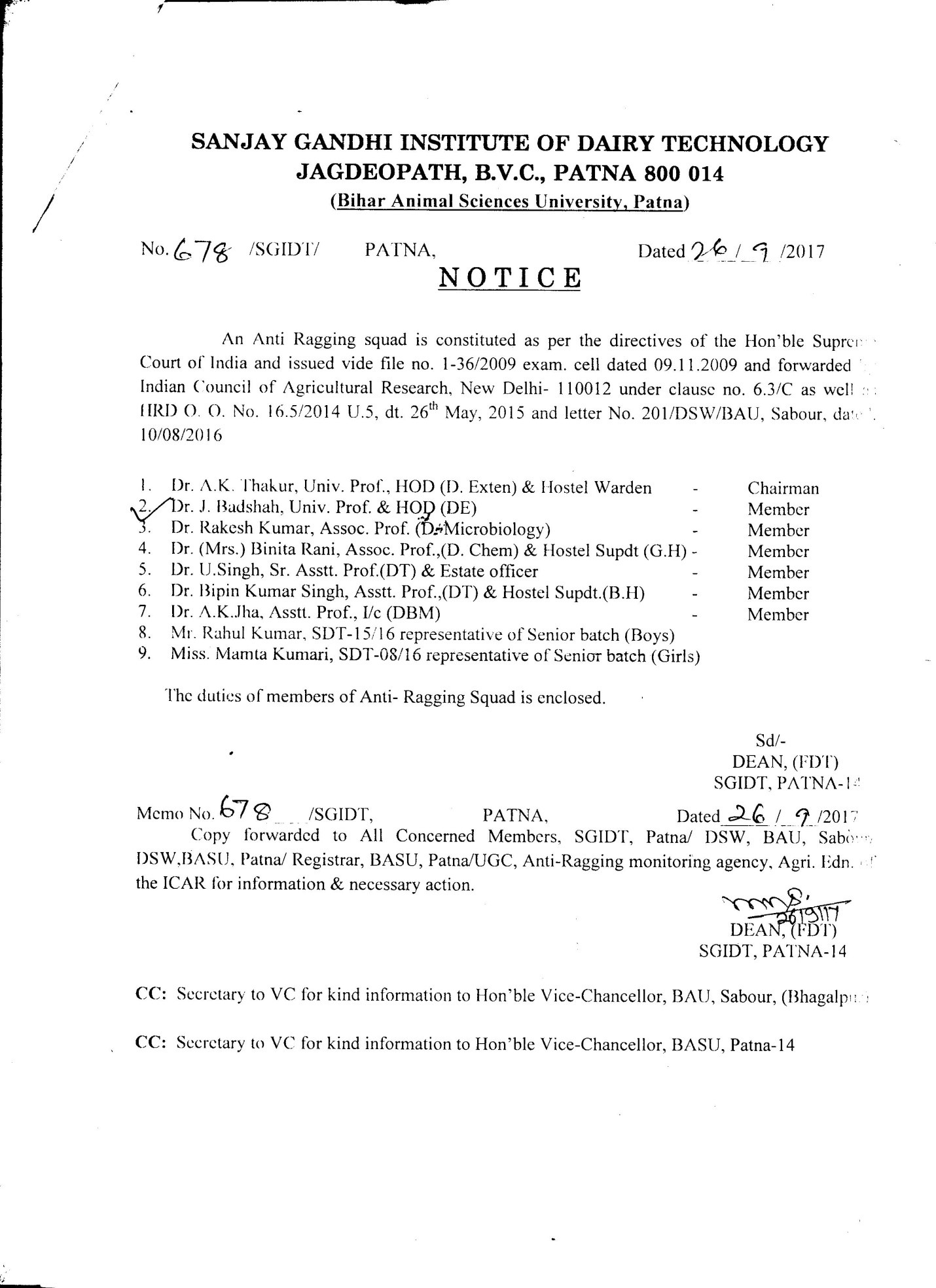 Anti Ragging Mentoring Committee