Department of Animal Nutrition
About
---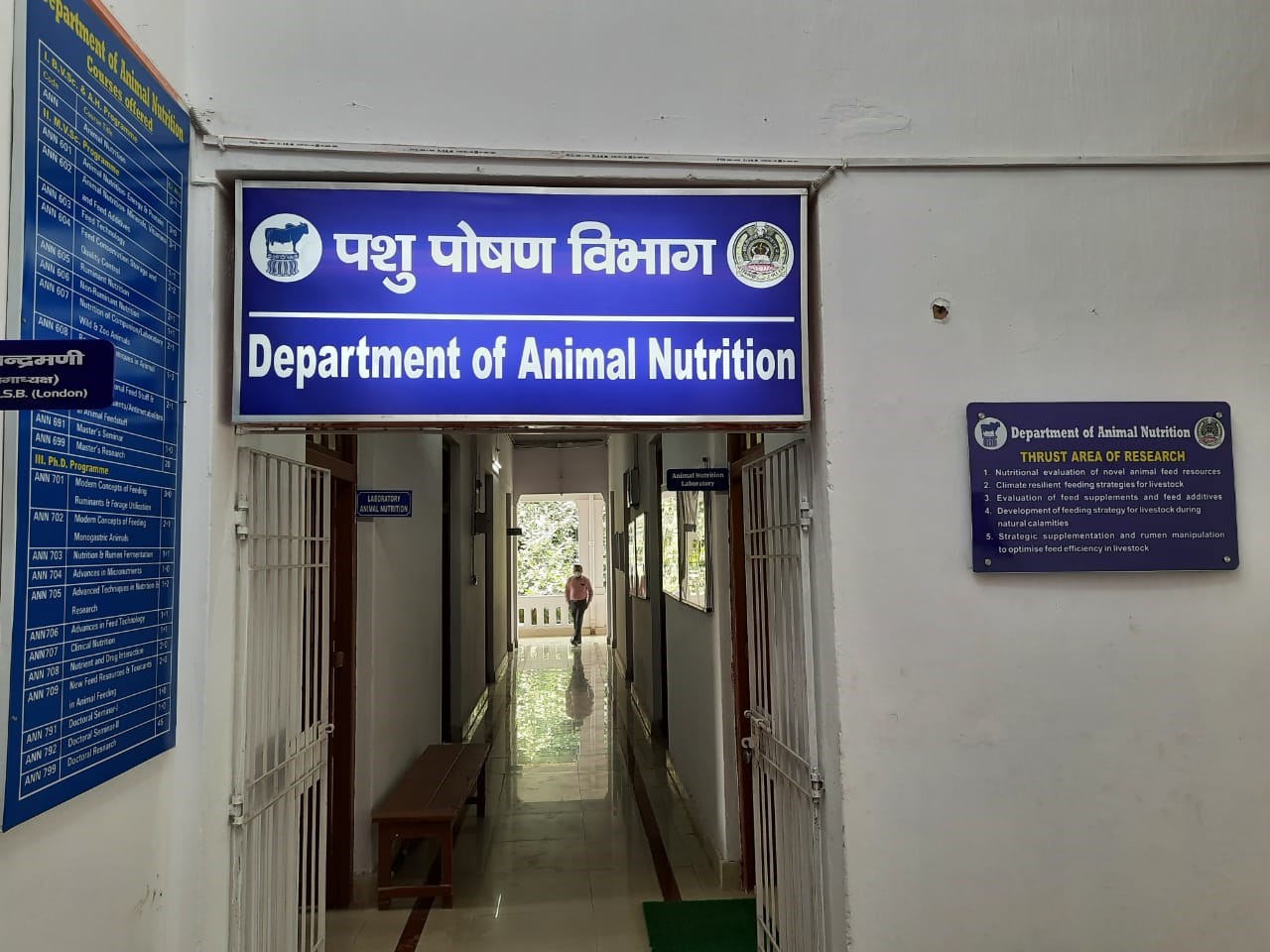 It is a matter of pride that nutritional work started for the first time in India at Pusa, Bihar under the stewardship of Dr. F.J.Warth. In continuation of same tradition, Bihar veterinary College, Patna was given mandate to continue the work in Animal Nutrition since 1960. Animal Nutrition plays a key role in maintaining optimal health of animals. Since 2/3rd of recurring expenditure of a farm goes on feeding of animal, so farmers can get direct benefit in any reduction of feed cost, besides increased production from their animal. The department has been entrusted for human resource development, research and extension activities. The department is known for pioneering work in fundamental as well as applied Animal Nutrition. The field of Animal Nutrition is expanding regularly. Besides feeding of animal, Feed Technology, Nutraceutical Newer growth promoters are new horizons. For pet lovers, suggestions of dieticians are gaining importance now a days. Unconventional feed and fodder resources found in Bihar like Moringa leaf, jhun jhuna leaf etc are being evaluated for different animals. Use of different feed additives like probiotics and enzymes in poultry are being evaluated. The department also provide training to livestock farmers, and veterinary officials in balanced feeding of animals. Newer techniques like bypass protein, bypass fat and plant secondary metabolites are being introduced to farmers to improve the performance of animals. The department has developed complete feed block for sustainable animal production round the year. A variety of feed and fodder, conventional as well as unconventional, has been reported for use in complete feed block. Our research activity has been recognized by the University recently by approving and selecting two technologies i.e. bypass protein and complete feed block technology in recent years.
Mandate
---
To cater the needs of teaching at Under-graduate and Post-graduate level on the different courses of Animal Nutrition.

To conduct needs based researches in the field of Animal Nutrition

To conduct various extension programmes related to the balanced feeding to livestock and poultry with a focus on increased animal production and higher benefit to the farmers

To cater the need of feed enterpnerus in feed testing and feed formulation of poultry and dairy feed.
Facilities
---
Basic facility of proximate analysis of feed & fodder

Software based feed formulation for livestock and poultry

Near-infrared spectroscopy (NIRS)

Semi-Automatic Nitrogen Analyser

In-vitro gas production unit (IVGP)

Double beam Spectrophotometer

Soxhlet apparatus

Hot Air Oven

Muffle Furnace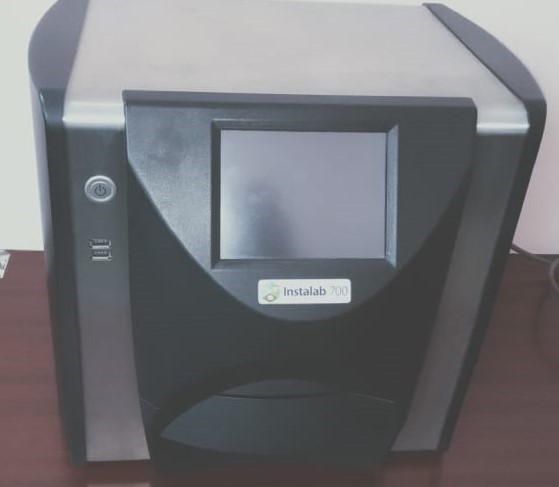 Academic Activities
---
U.G. Courses (As per VCI)
| | | |
| --- | --- | --- |
| Course No. | Course Title | Credits Hrs. |
| ANN | Animal Nutrition | 3+1=4 |
M.V.Sc. Courses (As per ICAR)
| | | |
| --- | --- | --- |
| Course No. | Course Title | Credits Hrs. |
| ANN-601 |  Animal Nutrition – Energy and Protein | 3+0= 3 |
| ANN-602 | Animal Nutrition – Minerals, Vitamins and Feed Additives | 3+1=4 |
| ANN-603 | Feed Technology | 1+1 = 2 |
| ANN-604 | Feed conservation, Storage and Quality control | 2+2= 4 |
| ANN-605 | Ruminant Nutrition | 2+1= 3 |
| ANN-606 | Non-Ruminant Nutrition | 1+1= 2 |
| ANN-607 | Nutrition of companion/laboratory, wild and zoo animals | 2+1= 3 |
| ANN-608 | Research techniques in Animal Nutrition | 1+3= 4 |
| ANN-609 | Non-conventional feed stuff and toxic constituents/ant metabolites in animal feedstuff | 2+1= 3 |
| ANN-691 | Master's Seminar | 1+0= 1 |
| ANN-699 | Master's Research | 20 |
PhD Courses (As per ICAR)
| | | |
| --- | --- | --- |
| Course No. | Course Title | Credits Hrs. |
| ANN-701 | Modern Concepts of Feeding Ruminants & Forage Utilization | 3+0= 3 |
| ANN-702 | Modern Concepts of Feeding Monogastric Animals | 2+1= 3 |
| ANN-703 | Nutrition & Rumen Fermentation | 1+1= 2 |
| ANN-704 | Advances in Micronutrients | 1+0= 1 |
| ANN-705 | Advanced Techniques in Nutrition & Research | 1+2= 3 |
| ANN-706 | Advances in Feed Technology | 1+1= 2 |
| ANN-707 | Clinical Nutrition | 1+1= 2 |
| ANN-708 | Nutrient and Drug interaction | 2+0= 2 |
| ANN-709 | New Feed Resources & Toxicants in Animal Feeding | 2+0= 2 |
| ANN-791 | Doctoral Seminar – I | 1+0= 1 |
| ANN-792 | Doctoral Seminar – II | 1+0= 1 |
| ANN-799 | Doctoral Research | 45 |
Research Activities
---
Completed Research Projects:
Sl. No

Title of the project

Duration

Funding agency

PI/CoPIs

1
Complete feed block for sustainable livestock production in Bihar

3 years
2010-2013

Bihar Agricultural University, Sabour
PI: Dr. Pankaj Kumar Singh
Co-PI: Dr. Chandramoni
2
Poultry Seed Project during IXth five year plan

4 years
2009-2013

Project Directorate on Poultry, Hyderabad
PI: Dr. M K Choudhary
Co-PI: Dr. Pankaj Kumar Singh
3
Improvement of Feed Resources and Nutrient Utilization in raising animal production

3 years
2008-2011

AICRP, ICAR. Delhi
Co-PI: Dr. C. Singh
Co-CCPI: Dr. Pankaj Kumar Singh
4
Growth performance of buffalo calves fed protected protein

3 years
2013-2016

Bihar Agricultural University, Sabour
PI: Dr. Sanjay Kumar
Co-PI: Dr. Kaushalendra Kumar
5
Exploitation of Dietary Tannins on Gastrointestinal Health and Growth Performance in Goats

3 years
2013-2016

Bihar Agricultural University, Sabour
PI: Dr. Kaushalendra Kumar
Co-PI: Dr. Sanjay Kumar
Ongoing Research Projects:
Sl. No

Title of the project

Duration

Funding agency

PI/CoPIs

1
Formulation and evaluation of area specific mineral mixture on the performance of dairy cattle and buffaloes

3 years
2018-2021

Bihar Animal Sciences University, Patna
PI: Dr. Pankaj Kumar Singh
Co-PI: Dr. Chandramoni
Co-PI: Dr. Sanjay Kumar
Co-PI: Dr. Kaushalendra Kumar
2
DST-FIST Programme-2016 "Fund for Improvement of S&T Infrastructure in Higher Educational Institutions"

5 years
2016-2021

DST
Co-PI: Dr. Kaushalendra Kumar
3
Innovation Grant under National Agricultural Higher Education Project (NAHEP)

4 years
2017-2021

ICAR, Delhi
Co-PI: Dr. Kaushalendra Kumar
Nodal Officer (GRM): Dr. Pankaj Kumar Singh
4
Bio-fabrication of Gold Nano particles and its anti-proliferative effect in cell line

3 years
2018-2021

Bihar Animal Sciences University, Patna
Co-PI: Dr. Kaushalendra Kumar
5
Assessment of Moringa oleifera as a fodder

2 years
2018-2020

Bihar Animal Sciences University, Patna
Co-PI: Dr. Kaushalendra Kumar
6
Metagenomic analysis of chicken gut microflora and its modulation by supplementation of tannins and virginiamycin

2 years
2019-2021

Bihar Animal Sciences University, Patna
PI: Dr. Kaushalendra Kumar
7
Colorimetric detection E. coli, Streptococcus spp. and Staphylococcus aureus isolated from mastitis milk samples by optical biosensing using oligonucleotide-gold nanoparticle

3 years
2019-2022

Bihar Animal Sciences University, Patna
Co-PI: Dr. Kaushalendra Kumar
Supporting Staff
---
| | | | |
| --- | --- | --- | --- |
| S. No | Name | Designation | Mobile No. |
| 1. | Sri. Shankar Ram | Lab Attendant | |
| 2. | Sri. Sudarshan Ram | Lab Attendant | |
| 3. | Sri. Sanjay Kumar Singh | Lab Attendant | 9934815114 |
Contact Details
---
Dr. Pankaj Kumar Singh
Professor
Department of Animal Nutrition
Bihar Veterinary College, Patna – 14 (Bihar, India)
Contact No.: +91 7909079625
Email ID.: vetpank@gmail.com