College of Veterinary and Animal Sciences, Kishanganj (CoVAS)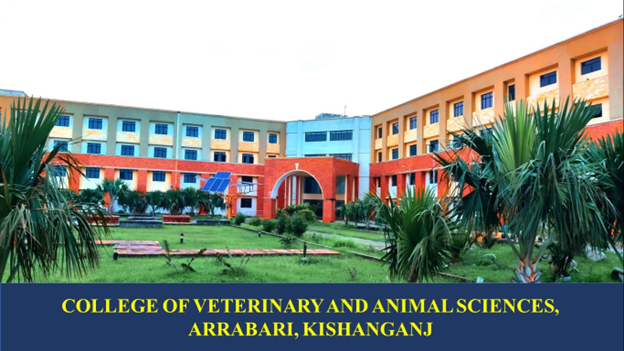 As per Bihar Gazette No. 797 Patna, Dated: 21.09.2021, Govt of Bihar has given approval for establishing the College of Veterinary and Animal Sciences (COVAS) at Kishanganj. The College of Veterinary and Animal Sciences, Arrabari, Kishanganj, came into existence on August 24, 2022, as second Veterinary College of Bihar Animal Science University, Patna as well as of the state of Bihar. There are acres of land dedicated to the college's enormous campus, positioned in the vicinity of Mahananda River. Campus is surrounded by lush green pastures including Tea gardens which is a specialty of Kishanganj as it is also known as TEA CITY OF BIHAR. The college shares its campus with two other colleges i.e., Dr. Kalam Agricultural College (under the aegis of BAU, Sabour, Bihar) and the College of Fisheries, BASU, Patna. The distance between the college and the Kishanganj city is roughly 25 kilometers. The college campus is well connected to rail, road and airport. Kishanganj railway station is considered as junction and the nearest airport which is located in Bagdogra can be used for smooth transport. Due to its proximity to West Bengal and Nepal, Kishanganj has a uniquely pleasant environment. Our goal is to produce quality resources to serve the people of Bihar in order to strengthen the economy of the north-eastern frontier area of Bihar, as the locality of Kishnganj and surrounding districts mostly rely on animal husbandry and farming for a living.
The college comprises a team of experienced and highly qualified faculty. These faculty members are alumni of reputed veterinary institutes of India and possess expertise in different disciplines of veterinary and animal sciences. Their knowledge and guidance are crucial for providing a high-quality education to the students. Team COVAS, Kishanganj is working tirelessly to advance and strengthen the college's teaching, research, and extension programmes in order for it to quickly attain its intended height. The four storey building is available for teaching and extension education with well-equipped laboratories, smart class rooms and well facilitated residential accommodation for the college students and faculty as well. The institute has a well-functioning hospital that offers comprehensive veterinary healthcare services to animals. It also possesses clinical biochemistry lab, pathology lab, and animal x-ray machine, and USG machine, operation theatre for both large & small animals.