Department of Veterinary Anatomy
About
---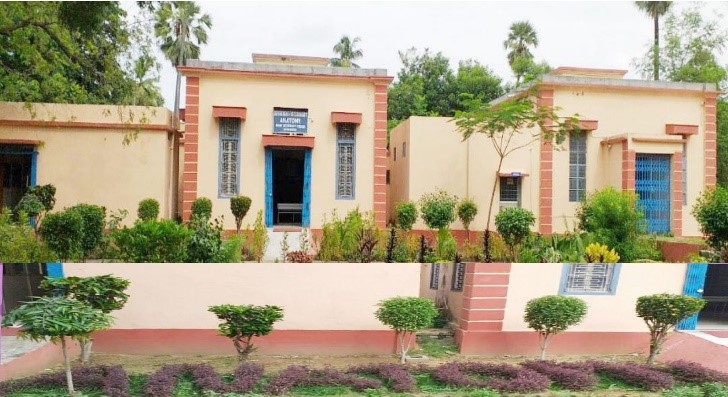 Department of Veterinary Anatomy was established in the very beginning i.e. in the year 1930 when Bihar Veterinary College Patna was opened as the 4th Veterinary College of India. As the college was awarding diploma to the graduates at the completion of three years, the subject of veterinary anatomy was limited primarily to the gross anatomy of domestic animals viz., Ox, Horse, Dog, Pig Sheep Goat and Fowl. Even then, this subject was taught for two consecutive years. Later on the subject of veterinary anatomy was taught with the emphasis of Histology and Developmental Anatomy
with the conversion of courses to the degree courses of four years' duration science 1949. The Department acquired the distinction of starting post graduates courses in early sixties. The PG level was first started up to Master level there soon followed by Ph.D. courses. With the evident of Rajendra Agricultural University in the year of 1971, later on Bihar Agricultural University in the year of 2010, the department of veterinary anatomy its credit has produced six (6) Ph.D. and seventeen (17) M.V.Sc. Candidates.
The Department is adequately equipped with the precision instrument and highly qualified teachers. The department has more than one hundred seventy-five research publications. The department has prepared appreciable number of teaching aids such as Skeletons, Charts, Models, Plaster Casts and Color Transparency film to cater to needs of U.G.& P.G students.
The department is known for pioneering work in virtual dissection of different Animal in India along with fundamental as well as applied veterinary anatomy. The faculty is taking keen interest in training livestock farmers, unemployed youth, and veterinary surgeons on normal structures of different organs of animals.
Mandate
---
To provide qualified human resources in the field of Veterinary Anatomy, Histology, Embryology and Applied Anatomy as well as Surgical Anatomy.
To furnish the information on the Gross Anatomy, Histomorphological, Histochemical and Embryological aspect of all domestic animals including birds also, so that the knowledge is availed for its application in the clinical, Para clinical, production and reproduction of other disciplines.
To provide quality teaching them regarding the process of embryogenesis and organogenesis during the embryonic life of the individuals so that students can understand about pathological condition caused due to faulty development.
Facilities
---
Virtual Dissection Table (Anatomage)
Gross Anatomy Laboratory
Histology, Histochemistry and Embryology Laboratory
Museum
Academic Activities
---
Academic activities
U.G. Courses (As per VCI Old)
| | | |
| --- | --- | --- |
| Sr. No. | Course No./Units | Course Title/ Unit Titles |
| 1. | Unit -1 | General Osteology, Arthrology and Myology, General Angiology, Neurology and Aesthesiology, General Splanchnology |
| 2. | Unit- 2 | Fore limb: Study of bones of fore limb of ox and differences in horse, dog, pig and fowl. Study of hoof of ox and horse. Study of joints, ligaments, stay apparatus, major blood vessels, nerves, veins and lymph nodes of fore limb. Sites for Radial, Median, Ulnar and Volar nerve blocks. |
| 3. | Unit -3 | Anatomy of Head and neck of ox and differences in horse, dog, pig and fowl . |
| 4. | Unit -4 | Anatomy of  Thorax of ox and differences in horse, dog, pig and fowl. |
| 5 | Unit -5 | Anatomy of Abdomen of ox and differences in horse, dog, pig and fowl. |
| .6. | Unit -6 | Anatomy of Hind limb and pelvis of ox and differences in horse, dog, pig and fowl. |
| 7. | Unit -7 | General and Systemic Histology |
| 8. | Unit -8 | General and Systemic Development Anatomy. |
M.V. Sc. Courses (As per ICAR)
| | | | |
| --- | --- | --- | --- |
| Sr. No. | Course No. | Course Title | Cr. Hrs. |
| | VAN -601 | Comparative Osteology &Arthrology | 1+2=3 |
| 2. | VAN – 602 | Comparative Splanchnology | 2+2=4 |
| 3. | VAN -603 | Myology, Angiology, Neurology & Aesthesiology of Ox | 1+3=4 |
| 4. | VAN -604 | Gross Anatomical Techniques | 0+2=2 |
| 5. | VAN – 605 | Theory and Practices of Histology and Histochemical Techniques. | 1+2=3 |
| 6. | VAN -606 | Gross Histology and Ultrastructure | 3+1=4 |
| 7. | VAN -607 | Systemic Histology and Ultrastructure | 3+1=4 |
| 8. | VAN – 608 | Developmental Anatomy | 3+1=4 |
| 9. | VAN -691 | Master's seminar | 1=0=0 |
| 10. | VAN -699 | Master's research | 20 |
Ph.D. Courses(As per ICAR)
| | | | |
| --- | --- | --- | --- |
| Sl. No. | Course No. | Course Title | Cr. Hrs. |
| | VAN-701 | Myology, Angiology, Neurology and Aesthesiology of Equine, Canine and Procine | 0+3 |
| 2. | VAN-702 | Principles and Applications of Biomechanics | 2+0 |
| 3. | VAN-703 | Avian Anatomy | 1+2 |
| 4. | VAN-704 | Neuroanatomy | 3+1 |
| 5. | ANN-705 | Endocrine Anatomy | 2+1 |
| 6. | VAN-706 | Theory and Application of Electron Microscope | 2+1 |
| 7. | VAN-707 | Histoenzymology and Immunocytochemistry | 2+1 |
| 8. | VAN-708 | Applied Embryology and Teratology | 1+2 |
| 9. | VAN-709 | Functional Veterinary Anatomy | 2+0 |
| 10. | VAN-710 | Gross Anatomy of Laboratory Animals | 1+1 |
| 11. | VAN-790 | Special Problem | 0+2 |
| 12. | VAN-791 | Doctoral Seminar I | 1+0 |
| 13. | VAN-792 | Doctoral Seminar II | 1+0 |
| 14. | VAN-792 | Doctoral Research | 45 |
Research Activities
---
Completed Research Projects
To prepare visual aid of leg conformation of horse – Funded by – Bihar Agricultural University, Sabour Bhagalpur- Period- 2013-2015.
Histological and histochemical Studies of Organs of Digestive Respiratory, Urogenital and Skin of Buffalo- Funded by ICAR
Ongoing Research Projects: – Nil
Supporting Staff
---
S. No.
Name
Mobile No.
1.
Sh. Mungeri Lal

Laboratory Attendant

8521183293
Contact Details
---
Dr. Sanjay Kumar Bharti
Assistant Professor & Head
Department of Veterinary Anatomy
Bihar Veterinary College, Patna – 14 (Bihar, India)
Contact No.: +91 9835284899, +91 7992286879
Email ID.: drskbharti24@gmail.com