Department of Veterinary Pathology
About
---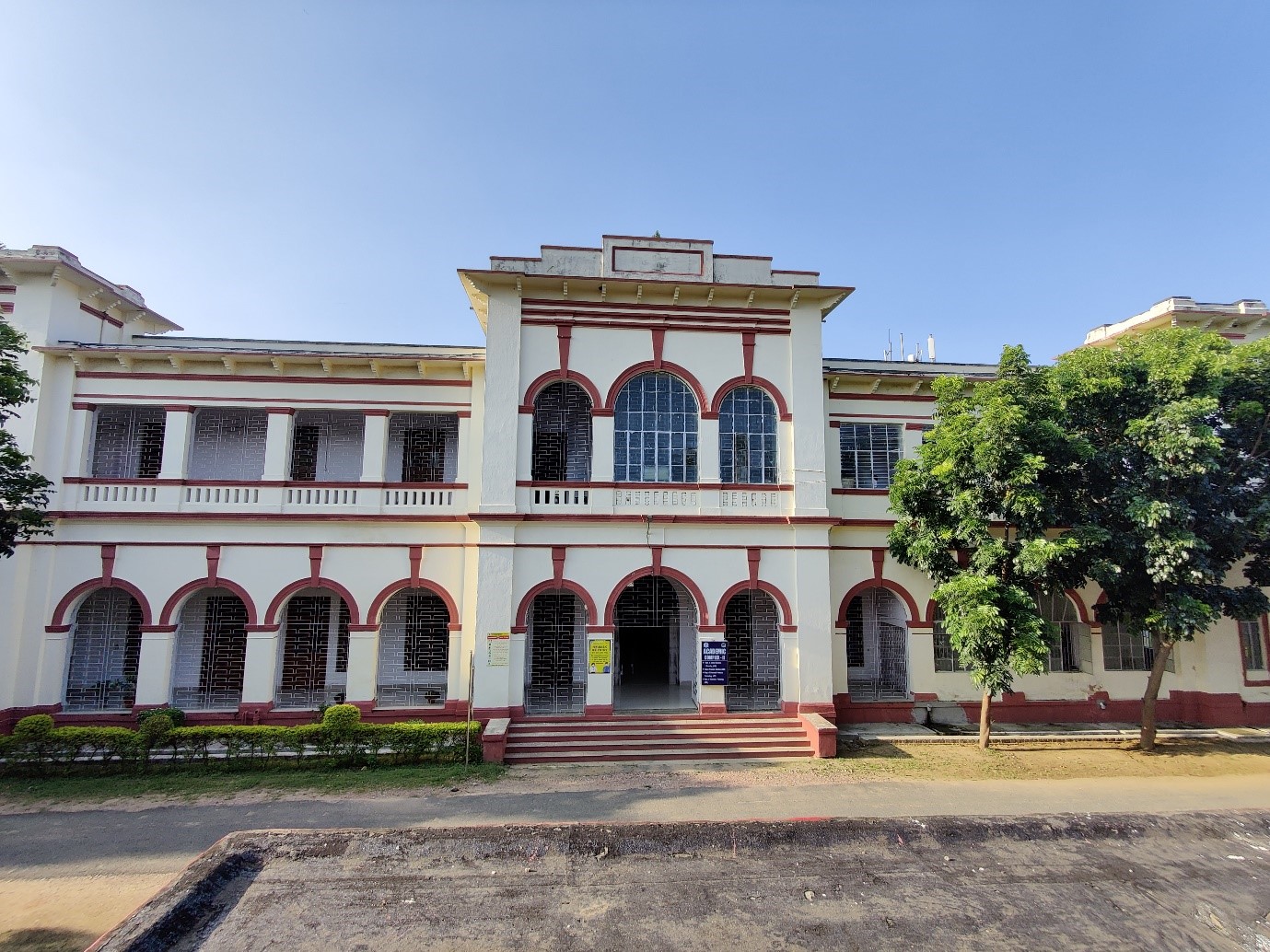 Since its inception, the Department of Veterinary Pathology actively engaged in teaching of courses of veterinary pathology as per VCI Curriculum in U.G., P.G. and Ph.D. degree program. It is one of the oldest departments of the college and imparting knowledge to students about the Pathology of diseases of animals, birds, wild life and laboratory animals. Dr. P. B. Kuppuswamy, Dr. C. D.N Singh, Dr L N Prasad and Dr. B K Sinha were the eminent Scientist who served the Department. More than 50 students had been awarded M.V.Sc degree from the Veterinary Pathology. Besides teaching the Department of pathology undertakes various diagnostic services to Veterinary Clinical Complex (VCC) and does necropsy examination of farm and companion animals and wildlife as well. The department has completed many research project and curricular researches and awarded M.V.Sc. degree and published several research papers in national and international journals. At present, institutional and externally funded projects are also has been sanctioned. Presently the department of pathology is actively participating in on campus training, workshops, webinars, Kisan Mela, Kisan Gosthi, radio and TV talks for the welfare of the livestock and poultry farmers.
Mandate
---
Teaching Under-Graduate and Post-Graduate Degree Programme

Disease Diagnosis and Post-Mortem Examination

Necropsy of companion and farm animals, wildlife and vetro – legal cases.

Researches on pathology of animal and poultry diseases.
Facilities
---
Clinical Pathology Laboratory

Histopathology Laboratory

Post-Mortem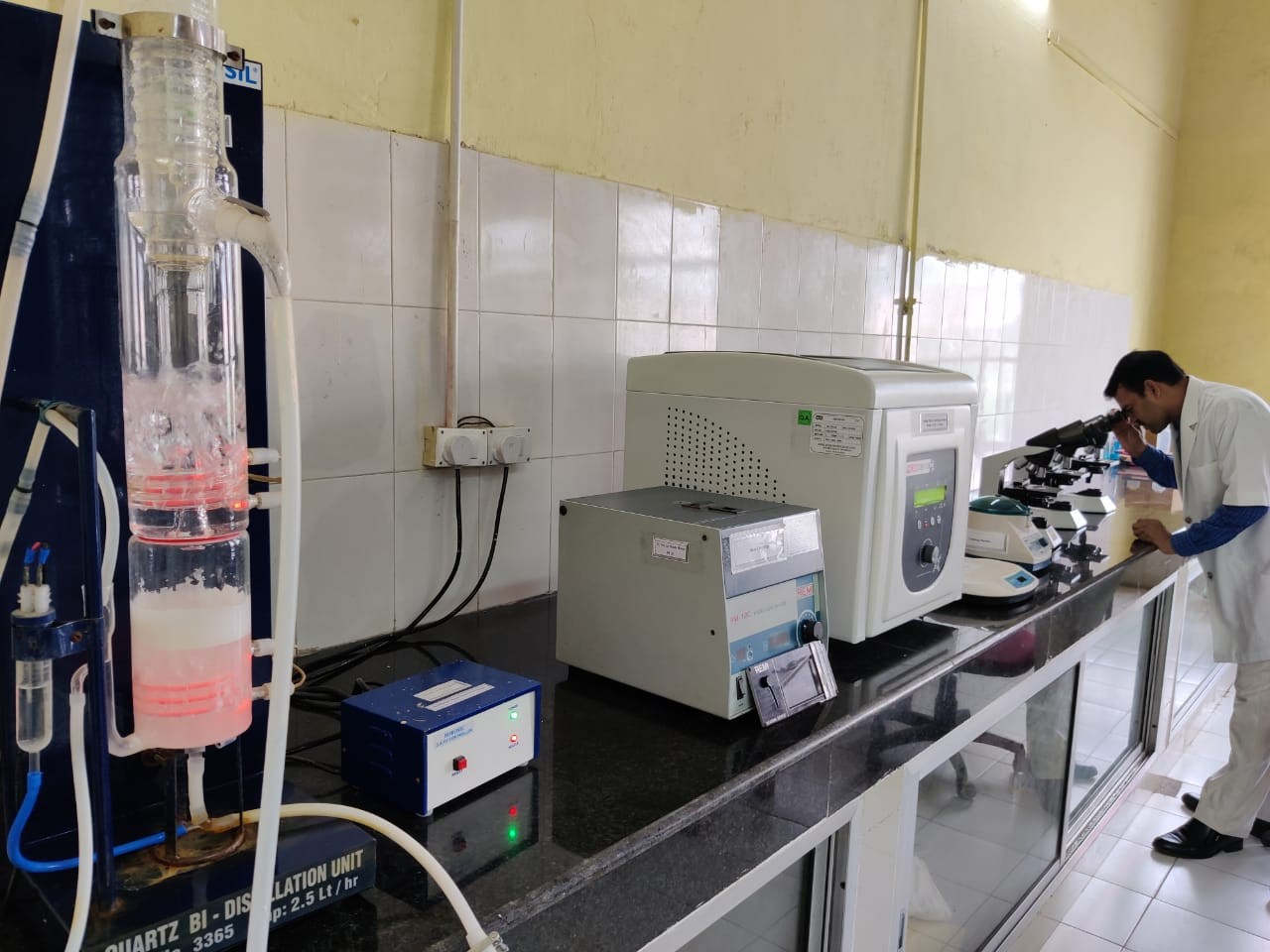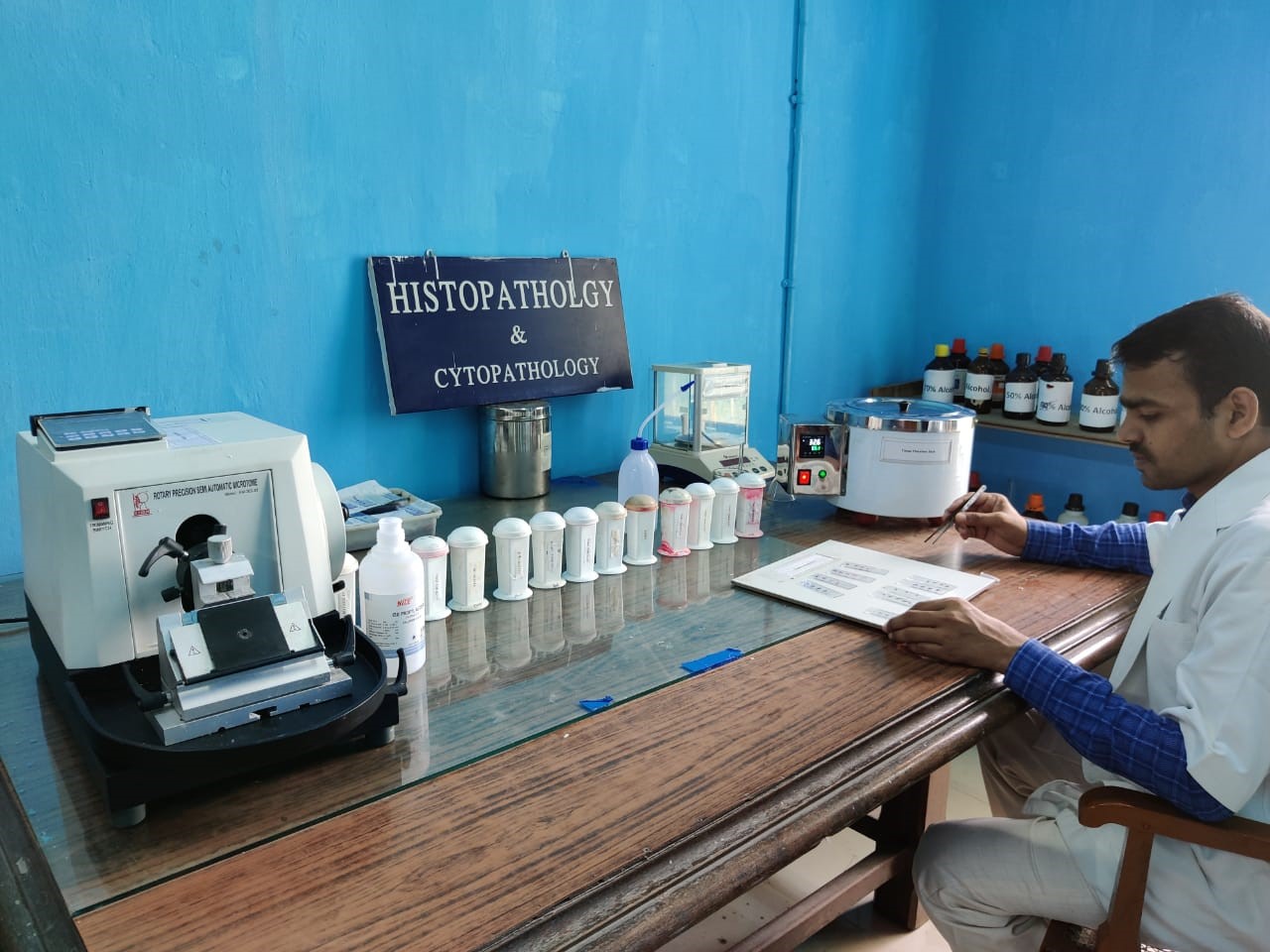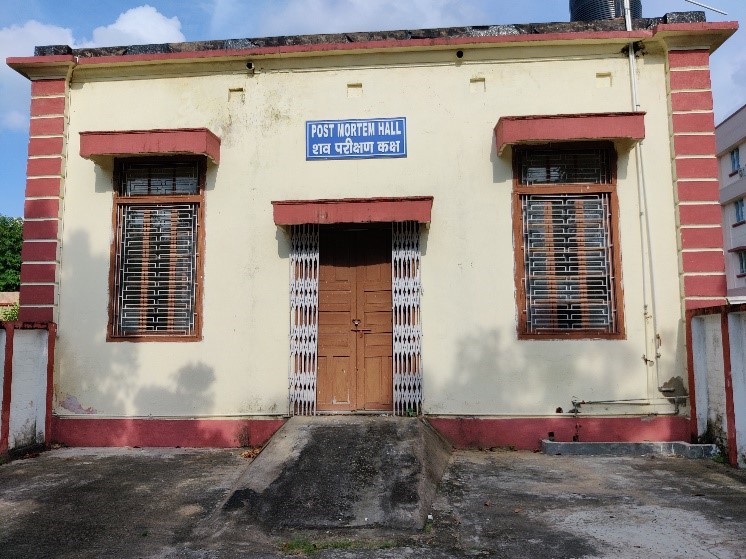 Academic Activities
---
U.G. Courses (As per VCI)
Sl. No.

Courses No.

Course Title

Credit Hrs.

1.
2nd Professional Year
UNIT-I : GENERAL VETERINARY PATHOLOGY

4+2

UNIT-II :SYSTEMIC VETERINARY PATHOLOGY
UNIT-III: ANIMAL ONCOLOGY, VETERINARY CLINICAL PATHOLOGY AND NECROPSY
UNIT-IV: PATHOLOGY OF INFECTIOUS AND NON-INFECTIOUS DISEASES OF DOMESTIC ANIMALS
UNIT-V :AVIAN PATHOLOGY
UNIT-VI : PATHOLOGY OF DISEASES OF LABORATORY AND WILD ANIMALS
MVSc. Courses (As per ICAR)
| | | |
| --- | --- | --- |
| Course NO. | Course Title | Credit Hrs |
| VPP 601 | General Pathology | 2+1 |
| VPP 602 | Techniques In Pathology | 1+1 |
| VPP 603 | Animal Oncology | 1+1 |
| VPP 604 | Clinical Pathology | 1+2 |
| VPP 605 | Necropsy Procedures and Interpretations | 1+1 |
| VPP 606 | Systemic Pathology | 2+1 |
| VPP 607 | Pathology of Infectious Diseases of Domestic Animals | 2+1 |
| VPP 608 | Toxico-pathology                                                                            | 2+1 |
| VPP 609 | Avian Pathology                                                                                             | 2+1 |
| VPP 610 | Pathology of Laboratory Animals, Fish and Wild Animals | 2+1 |
| VPP 691 | Master's Seminar | 1+0 |
| VPP 699 | Master's Research | 20 |
PhD Courses (As per ICAR)
| | | | |
| --- | --- | --- | --- |
| Sr No. | Course NO. | Course Title | Credit Hrs |
| | VPP 701 | Pathology Of Nutritional And Metabolic Disturbances | 2+1 |
| | VPP 702 | Advances In Toxicopathology | 2+1 |
| | VPP 703 | Advances In Diagnostic Pathology | 1+2 |
| | VPP 704 | Ultrastructural Pathology | 1+1 |
| | VPP 705 | Immunopathology | 2+1 |
| | VPP 706 | Pathology Of Important And Emerging Diseases Of Pets And Livestock | 1+1 |
| | VPP 707 | Advances In Avian Pathology | 2+1 |
| | VPP 708 | Pathology Of Fungal Diseases | 2+1 |
| | VPP 709 | Molecular Pathology Of Cell Injury | 2+1 |
| | VPP 710 | Experimental Pathology | 1+1 |
| | VPP 790 | Special Problem | 0+2 |
| | VPP 791 | Doctoral Seminar I | 1 |
| | VPP 792 | Doctoral Seminar II | 1 |
| | VPP 799 | Doctoral Research | 45 |
Research Activities
---
Completed Research Projects:
Sl. No.

Title of the Project

Duration

Funding agency

PI/Co-PIs

1.

Cytopathological and Histopathological Diagnosis and Grading of Superficial Neoplasia in Animals
2013-15
(2 Yr)
Bihar Agricultural University, Sabour, Bhagalpur
PI: Dr. Sanjiv Kumar
C-PI: Dr. Deepak Kumar
Dr. Imran Ali

2.

Pathomorphological & Immunopathological studies of selenium toxicity induced in broiler chicken & natural cases of animal in prone area on Bihar
2013-15
(2 Yr)
Bihar Agricultural University, Sabour, Bhagalpur
PI : Dr. Deepak Kumar
Co-PI : Dr.  Sanjiv Kumar
Dr. Imran Ali

3.

Prevalence and etio-pathology of early chick mortality in poultry farm in and around Patna.
2013-15
(2 Yr)
Bihar Agricultural University, Sabour, Bhagalpur
PI : Dr. Imran Ali
Co-PI : Dr Deepak Kumar
Dr. Sanjiv Kumar
Ongoing Research Projects:
Sl. No.

Title of the Project

Duration

Funding agency

PI/Co-PIs

1.

Evaluation of Proliferative and apoptotic markers in Canine mammary tumour for diagnosis and prognosis
2019-21
Bihar Animal Sciences University,
Patna -14
PI : Dr. Kaushal Kumar
Co PI: Dr. Deepak Kumar Asst. Professor, Vet. Pathology
Dr. G D Singh, Asst. Professor, Vet. Surgery.
Dr. Ramesh Tiwary, Asst. Professor, Vet. Surgery
Dr. Pallav Shekhar, Asst. Professor, Vet. Medicine

2.

Establishment of Regional Disease Diagnosis Laboratory
2019-20
RKVY-RAFTAAR.
PI : Dr. Kaushal Kumar
Co-PI :
Dr Deepak Kumar, Asst. Prof., (Vety. Pathology)
Dr. Ajeet Kumar, Asst. Prof. (Vety. Biochemistry)
Dr. Pankaj Kumar, Asstt. Prof. (Vety. Microbiology)
Dr. R. K. Sharma,Asstt. Prof. (Vety. Parasitology)
Dr. Nirbhay Kumar,Asstt. Prof. (Vety. Pharmacology
Dr. Manoj Kumar,Asstt. Prof. (Vety. Microbiology)
Supporting Staff
---
| | | | |
| --- | --- | --- | --- |
| S. No | Name | Designation | Mobile No. |
| 1 | L. P.  Roy | Laboratory Assistant | 94310 66029 |
| 2 | Sanjay Ram | Sweeper-cum-Attendant | 82077 35117 |
| 3 | Rajan Ram | Sweeper-cum-Attendant | 84347 53473 |
Contact Details
---
Dr. Kaushal Kumar
Associate Professor & Head
Department of Veterinary Pathology
Bihar Veterinary College, Patna – 14 (Bihar, India)
Contact No.: +91 72502 56648
Email ID.: drkaushal15@rediffmail.com