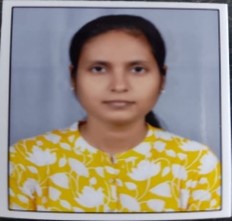 Name

:

Dr. Soni Kumari

Address

:

Assistant Professor




Department of Animal Genetics and Breeding




Bihar Veterinary College,




Patna – 800014 (India)

E-Mail

:

soniagbbvc@gmail.com

Phone

:

+91-8968778421
Area of specialization:
Animal Breeding,

Molecular Genetics,

Bioinformatics
Five Best Publications:
Sharma M, Mathesh K, Dandapat P, Mariappan A K, Kumar R, Kumari S, Kapur V, Mann S, Jindal N, Basnsal N, Kadiwar R, Kumar A, Gupta N, Pawde A M and Sharma A K.(2023). Emergence of Mycobacterium orygis – Associated Tuberculosis in Wild Ruminants, India. Emerging Infectious Diseases. 29 (3): 661-63.
Kumari S, Bhushan B, Kumar A, Panigrahi M, Mehrotra A, Kumar G R , Chauhan A, Malla W A, Kumar S, Gaur G K and Dutt T.(2022). Comparison of gene expression profile in indigenous Ghurrah and exotic Landrace piglets. The Pharma Innovation Journal.11 (7): 2491-2493.
Mehrotra A, Bhushan B, Kumar A, Panigrahi M, Chauhan A, Kumari S, Saini B L, Dutt T and Mishra B P. (2022). Characterisation and comparison of immune response mechanisms in an indigenous and a commercial pig breed after classical swine fever vaccination. Animal Genetics. 53(1): 68-79.
Sharma N, Narang R, Kashyap N, Kumari S, Kaur S and Ratwan P. (2018). Genetic analysis of persistency in HF crossbred cattle at an organized farm of northern India. Tropical animal health and production. 50: 1219-1225.
Kumari S, Narang R, Malhotra P, Sharma N and Mehrotra A. (2019). Evaluation of reproductive performance of crossbred cattle maintained at an organized farm in Punjab. The Pharma Innovation Journal. 8(7): 159-162.
Other Publication :
Research Article : 09

Popular Article   : 06

Book Chapter     : 04
Members of Professional Societies :
| | | | |
| --- | --- | --- | --- |
| S. No. | Name of Society | Duration | Details |
| 1 | Indian Society of Animal Genetics and Breeding (ISAGB) | Life member | ISAGB/501/475 |
Research Activities : NIL
Honours and Awards:
| | | | |
| --- | --- | --- | --- |
| S. No. | Name of Honours and Awards | Awarding Organization | Year |
| 1 | Merit scholarship award during B.V.Sc.&A.H. | Bihar Agricultural University, Bhagalpur,  Sabour, | 2007-2012 |
| 2 | Merit scholarship award during M.V.Sc. | Guru Angad Dev Veterinary and Animal Sciences University, Ludhiana | 2013-2015 |
| 3 | Institute scholarship award during Ph.D. | ICAR- IVRI, Izzatnagar, Bareilly | 2015-2017 |
| 4 | NFSC- Scholarship during Ph.D. | University Grants Commission, New-Delhi | 2017 |