Department of Veterinary Surgery and Radiology
About
---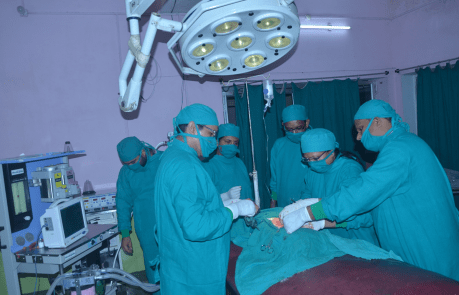 The department has very old glory, it was established in year 1930 under the supervision of first professor of the Department Dr. G. N. Roy Choudhary. Dr. G.B Singh was professor between 1943 to 46 during his tenure he added practical and clinical aspect of surgery, further the chair taken by Professor Col. Dr. S. M. Ishaque in 1946 during his period the department further extended by including course of soundness, Obstetrics and Gynaecology. In year 1963, first time M.V. Sc programme was started and first M.V. Sc degree was awarded in 1965 to Dr. S. C. Ojha under the supervision of Dr. S. A. Ahmed. During the tenure of Dr. Ahmed diagnostic facility like X-ray, Inhalation anaesthesia machine and sophisticated instruments further improve the quality of diagnosis and surgical operation. Dr. A. A. Khan was the first Ph.D. scholar of this Department, he did his research work on long bone grafting in bovine in collaboration with Royal veterinary college, Denmark in 1972. A good number of veterinary students completed M.V.Sc. and medical students did collaborative research to get M.S. degree in this department and some of them occupying high positions in India and abroad. Dr. B. Prasad alumni of this department hold the post Head of Department Surgery and Radiology PAU, now GADVASU Ludhiana. The department published many research articles in different foreign and Indian journal of repute and handled good number of research project. The faculty of the Department actively taking part in UG, PG teaching to impart quality veterinary surgery teaching with the help of various teaching aids and practical facilities (with the help of different modern diagnostic tools and surgical technique), research and extension activities and also support as resource person to nearby Patna Zoo and Forest Department of Bihar in rescue and heath management of wild and captive animals. As a future projection, the endeavours to open up Ph.D. programme in the subject in near future. Besides, a modern fully equipped operation theatre the Department would upgrade the existing facility by developing competence in specialty/ super specialty and building infrastructure of an ultra-modern clinical facility. The focus in this subjects would be on strengthening diagnostic imaging, laparoscopy, endoscopy, CT scan, MRI, anaesthesia and newer surgical techniques; development of facilities and expertise in specialty areas like ophthalmology, orthopaedics, neurology, cardiovascular diseases, dentistry, geriatrics and sports medicine; search for newer healing promoters, biomaterials and implants for managing surgical disorders; modern therapeutics like stem cell therapy and modern diagnostic biomarkers. is also to be established.
Mandate
---
To impart quality education and provide training to the Undergraduate and Post Graduate student.

Research in the field of Veterinary Surgery, Radiology and Anaesthesia.

To provide quality service to the farming community and pet owners.

To participate in the programmes of extension education and help in transfer of technology from laboratory to land.

To provide treatment facilities to animals in Veterinary Teaching Hospital of BVC.
Goal
---
Research on diagnosis and economical surgical treatment of important diseases of domestic animals.
Surgical treatment of domestic (large and small) and wild/zoo animals.
Facilities
---
Dental Work Station

Electrocautery

Multipara monitor

Small Animal Anaesthesia machine.

Large Animal Lifter.

Orthopaedic Instruments.

X-Ray Machine
Academic Activities
---
UG courses (As per VCI)
Theory and Practical

UNIT

VETERINARY SURGERY AND RADIOLOGY

Cr: 2+1

UNIT-1

VETERINARY GENERAL SURGERY

UNIT-2

VETERINARY ANAESTHESIOLOGY

UNIT-3

VETERINARY DIAGNOSTIC IMAGING TECHNIQUES

UNIT-4

REGIONAL SURGERY-I

UNIT-5

(REGIONAL SURGERY-II

UNIT-6

ORTHOPEDICS AND LAMENESS
M.V. Sc Courses (as per ICAR)
| | | |
| --- | --- | --- |
| COURSE NO. | COURSE TITLE | CREDITS |
| VSR 601 | PRINCIPLES OF SURGERY | 2+0 |
| VSR 602 | CLINICAL PRACTICE – I | 0+3 |
| VSR 603 | CLINICAL PRACTICE – II | 0+3 |
| VSR 604 | SMALL ANIMAL ANAESTHESIA | 2+1 |
| VSR 605 | LARGE ANIMAL ANAESTHESIA | 2+1 |
| VSR 606 | DIAGNOSTIC IMAGING TECHNIQUES | 2+1 |
| VSR 607 | VETERINARY OPHTHALMOLOGY AND DENTISTRY | 1+1 |
| VSR 608 | SMALL ANIMAL SOFT TISSUE SURGERY | 2+1 |
| VSR 609 | LARGE ANIMAL SOFT TISSUE SURGERY | 2+1 |
| VSR 610 | ORTHOPAEDICS AND LIMB SURGERY | 2+1 |
| VSR 691 | MASTER'S SEMINAR | 1 |
| VSR 699 | MASTER'S RESEARCH | 28 |
Ph D Courses (as per ICAR)
| | | |
| --- | --- | --- |
| COURSE NO. | COURSE TITLE | CREDITS |
| VSR 701 | PRINCIPLES OF SURGERY | 2+0 |
| VSR 702 | CLINICAL PRACTICE – I | 0+3 |
| VSR 703 | CLINICAL PRACTICE – II | 0+3 |
| VSR 704 | SMALL ANIMAL ANAESTHESIA | 2+1 |
| VSR 705 | LARGE ANIMAL ANAESTHESIA | 2+1 |
| VSR 706 | DIAGNOSTIC IMAGING TECHNIQUES | 2+1 |
| VSR 707 | VETERINARY OPHTHALMOLOGY AND DENTISTRY | 1+1 |
| VSR 708 | SMALL ANIMAL SOFT TISSUE SURGERY | 2+1 |
| VSR 789 | LARGE ANIMAL SOFT TISSUE SURGERY | 2+1 |
| VSR 790 | ORTHOPAEDICS AND LIMB SURGERY | 2+1 |
| VSR 791 | MASTER'S SEMINAR | 1 |
| VSR 792 | MASTER'S RESEARCH | 28 |
| VSR-799 | DOCTORAL RESEARCH | 45 |
Research Activities
---
| | | | | |
| --- | --- | --- | --- | --- |
| Sl. No. | Title of Project | Duration | Funding Agency | PI/Co-PI |
| 1. | Studies on urohydropropulsion and tube cystotomy for surgical management of urolithiasis in goats | 2018 | State Plan | Co-PI: Dr. Mithilesh Kumar |
| 2. | Augmenting Veterinary Clinical Diagnostic and Therapeutic Facilities at University Referral Hospital . | 2020 | RKVY-RAFTAR | Co-PI: Dr. Mithilesh Kumar |
| 3. | Management of Surgery-oriented Mastitis in Cow | 2020 | State Plan Funding | PI |
Supporting Staff
---
| | | | |
| --- | --- | --- | --- |
| Sl. No. | Name | Designation | Mobile No. |
| 1 | Sri Prem Kumar | Lab Assistant | 9334457019 |
| 2. | Sri Jagat Ram | Lab Attendant | 9939392070 |
| 3. | Sri Jayram Sah | Seis | 8252022275 |
| 4 | Sri Chhabila Prasad | Darwan | 9709977137 |
Contact Details
---
Dr. Mithilesh Kumar
Associate Professor & Head
Department of Surgery and Radiology
Bihar Veterinary College, Patna – 14 (Bihar, India)
Contact No.: +91 9431083112
Email ID.: mithileshvet2006@gmail.com